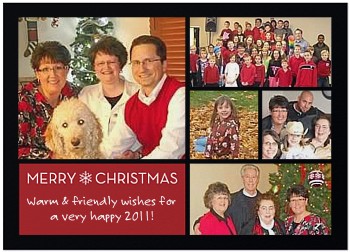 Modern Cranberry Noir Christmas
Here's the Christmas/New Year's Card I made on Shutterfly. Enjoy!
Dearest Family & Friends,
Merry Christmas & Happy New Year!
I pray this finds you doing well & enjoying life. 2010 was a great year! In June during Missions Extreme (an in-state missions trip for 5th/6th graders), our team served in Painesville, OH & was privileged to work with Convoy of Hope for the culminating outreach at the end of the week. One of my biggest dreams is to drive a semi truck. Although I didn't get to drive it, I did get to sit in the seat of the Convoy of Hope semi & even honked the horn! I LOVED that! For the first time, I had the opportunity to speak at Kids Camp this summer on the topic of going into all the world. I served with a great team of leaders & some of my kids got to go to camp, too. The Easter Egg Hunt is always a highlight! This year CapCity Church stuffed 10,000 eggs with candy & had a record attendance for the event. I attended 2 children's ministry conferences this year, one in St. Louis, MO & the other in Murfreesboro, TN. I learned a lot at both! I was able to take 2 trips to FL--the first trip in January was terrible! It was so cold, with the highest temperature being just 59 & I only got to be in the sun for 5 hours! :( My time in FL during May was much better & was a much-needed break before all the summer activities began. I got to see Ty, Kelly & Marissa while there, too! What an honor it was for me when my good friends, James & Anitha, asked me to fly to Wisconsin to dedicate their baby in August. Also in August, I turned the big 4-0 & celebrated with a huge party with balloons animals, a bounce house, a cupcake-decorating station, a scrapbook page-making station, carnival games, great food, & so many special people! Ty, Kelly, & Marissa came up for a short trip in November (middle left: Marissa in the leaves, age 5; middle right: Kelly, me, Marissa, Ty & Gram, who turned 90 this year!). December 19 was the Christmas musical, Back to the Manger (top right: cast of Back to the Manger). Dad, Mom, & Gram came down to watch (bottom right). I am still living in Plain City with Joe, Lori & their dog, Bailey (top left). I continue to LOVE where God has called me to serve, Capital City Church. I LOVE my CapCity Kidz & the entire church family! I enjoy connecting with CapCity Kidz during weekly services, monthly movie nights, & weekly lunches at their schools/homes. Phew--what a great year! I'm looking forward to a great 2011 & wish you all a very happy & blessed New Year!
Love & prayers to you & yours, Staci